A day to remember in the history of Seychelles
30th September 2016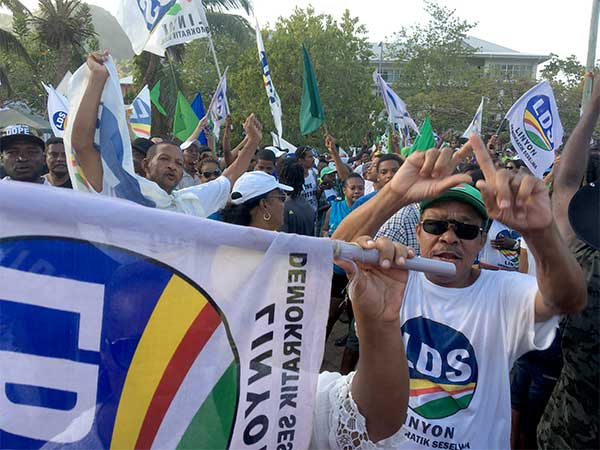 By Lewis Betsy
The celebrations started early on Sunday 18th September, with a big crowd at Freedom Square. It was very interesting to see so many people in all types of T-shirts LDS, 15 -10, Pil lo Li with some wearing SNP green as well as other colours... and they were all opposition colours.
This was the moment the opposition realised it had finally emerged from the political wilderness and was able to celebrate its convincing victory in the National Assembly elections.
For me, it was an amazing day to see the smiles on people's faces. For the first time in ages I met so many old friends, some of them who had suffered under the SPUP, SPPF and Parti Lepep since the 5th June 1977. It was clear to see that they thought it was their day.
The majority of the speakers there stressed that the day itself would not be a day of many speeches but a day of celebration. Rightly so.
In the National Assembly elections, LSD won 15 seats and PL won 10 and proportionally both parties won an extra four seats each.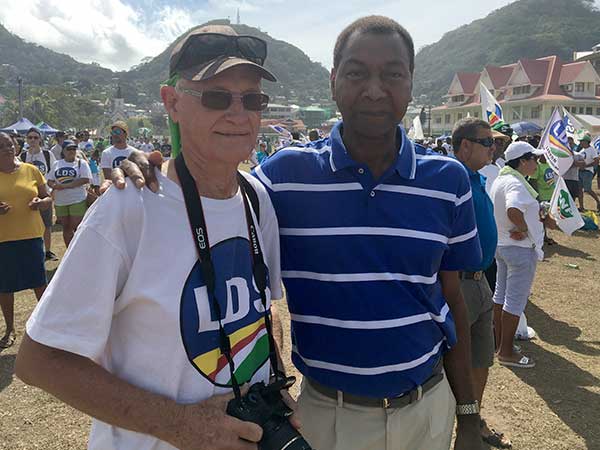 For me, it was the beginning of change for Seychelles after the oppression of the people for so long. You could see that they were not scared anymore and, as the pictures show, they came in their thousands from all over Mahe, Praslin and La Digue.
Since 5th June, 1977 many people suffered under the regime. Some lost their jobs, some were imprisoned, and many disappeared and are now feared dead. But over all this time there have been no explanations, no apologies. Just cold silence.
Now hopefully, the newly elected members of LDS will ask serious questions about all these issues. I for one have many questions. However, they may remain unanswered for I am a man who believes in reconciliation, harmony, unity and forgiveness and I would like to see a Government of National Unity. This may mean drawing a line under the past.
Many times previously, I said that President Michel could do a lot for the people of Seychelles but he failed them every time. Well, now he has decided to step down that will mean the president-in-waiting Danny Faure, is left to rectify things and help all the Seychellois – not only the party few.
And forgive me for taking pride in my political forecast. Six weeks ago in a previous Editorial I predicted that Michel would step down and pass the baton to Danny Faure and I was right.
I note Linyon Demokratik Seselwa are challenging Faure's succession as "undemocratic", but I wonder whether the Attorney-General will have the final word and Faure will still be the new President after all. We will see.
Meanwhile, I hope LDS will waste no time in tackling the big social issues: Namely, the need for National Reconciliation, that they set up an Anti-Corruption Commission, and they take on the drugs problems. The LDS should also deal with the right to vote of Seychellois living abroad.
On a personal note I would like to see that the body of my good friend Gerard Hoarau is returned to Seychelles for his last resting place. As you may know, he was murdered in London on 29th November 1985, but his killers were never found. Someone, somewhere must know what happened. When this and the other questions are answered then there will be progress. This will help the people of Seychelles live in peace, unity and harmony together. I think it is the only way forward for Seychelles.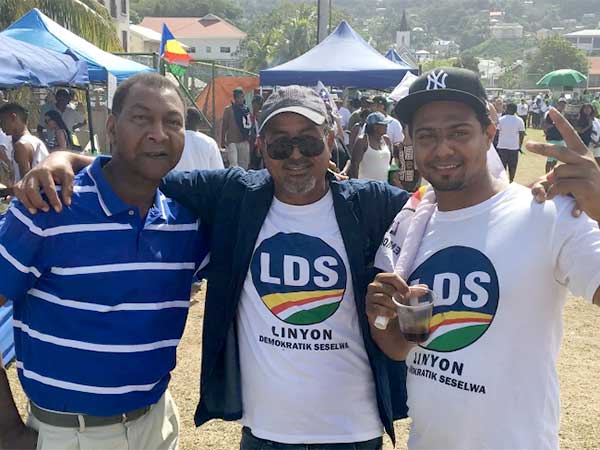 My visit to the Seychelles two weeks ago was filled with emotion, especially when I spoke to some of the LDS supporters at Freedom Square. Well, we've made the first step toward a FREE Seychelles, but there is a lot of work to do.
My first message to LDS supporters is to be united and stay together and let the newly elected members of the National Assembly get on with their jobs. It is also important for all of us to stay focused because the PL is not going to give up its fight to get back all the lost seats come the next election. They are not going to take the National Assembly defeat lying down so we need to be vigilant, and ready.
Floating voters will need to fight the temptation of Parti Lepep. The PL promises are an illusion. And time and time again their bad practices were exposed. I have to say that again the social media has played a massive role to help free Seychelles from under the stronghold of PL.
A new era has begun. Let us embrace it for the good of all Seychellois.