The new political situation in Seychelles reinforces the view that it is a 'small country that thinks big'
1st November 2016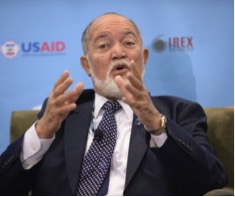 Sir James Mancham, Seychelles Founding President, writes a reassuring letter to Seychelles Life
I am writing to you as a member of Le Club de Madrid which celebrated on Tuesday October 25, 2016, its 15th anniversary having been formed with the objective of consolidating democratic transition and consolidation worldwide.
The conference was an initiative of the Gorbachev Foundation of North America (GFNA) and the Fundación para las Relaciones Internacionales y el Diálogo Exterior (FRIDE) that grew from an idea shaped at Harvard University by several independent individuals.
Today, there is no organisation in the world with more accrued experience in democratic governance and potential to contribute to a better world. As a matter of fact, Mr António Guterres, former Prime Minister of Portugal from 1995 to 2002, who will assume the position of Secretary General of the United Nations as from 2017, has been a prominent and active member of the Club.
The threats to democracy faced in 2001 have not receded, and new ones have appeared in the horizon, like climate change, nationalism, radicalisation and violent extremism, the rise and success of some non-democratic regimes, the growth and spread of populism with oversimplification of issues, less informed electorates, the increase in inequality, and conflicts, when not outright wars that have produced millions of displaced persons and the worst refugee crisis in history.
Global governance and multilateralism are precarious. The need for our Club de Madrid, as both a kind of world senate and an "Action Tank" is even greater than it was in 2001. It is the only institution that can amplify the voice of hundreds of millions of citizens across the globe through that of 100 respected world leaders on these and other challenges and that can implement initiatives to enable optimism.
In my capacity as a member of this prestigious Club, I trust that the political development which is ongoing in Seychelles today will result in the creation of peace, stability and reconciliation within our Nation so that I am justified to tell fellow members of the Club, as I have done in the past, that Seychelles is indeed "a small country that thinks big".
Sir James R. Mancham, KBE