The ceremony that shows politics can be a piece of cake
18th December 2017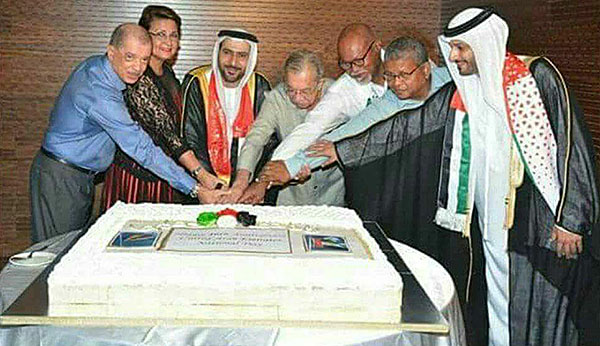 Here's a picture you could never have imagined being taken a little while ago. It features a group of men who once were politically daggers-drawn but are now all linking up to grab the handle of a giant knife to cut a giant cake.
Among the cake-slicers are, left, former President James Michel, in the middle, the Speaker of the National Assembly Patrick Pillay, and next to him the Leader of the Opposition Wavel Ramkalawan. The occasion at the Savoy Resort, Beau Vallon, was to celebrate National Day for the United Arabs Emirates – it was the 46th anniversary of the establishment of the Emirates on December 2, 1971.
Judging from everyone's expression, and clearly their willingness to be there, it just goes to show that for some people you can still have your cake and eat it.