At 75, veteran statesman Sir James shows no sign of slowing down
29th April 2015
At an age when most people would consider taking it easy, 75-year-old Sir James Mancham is as busy as ever.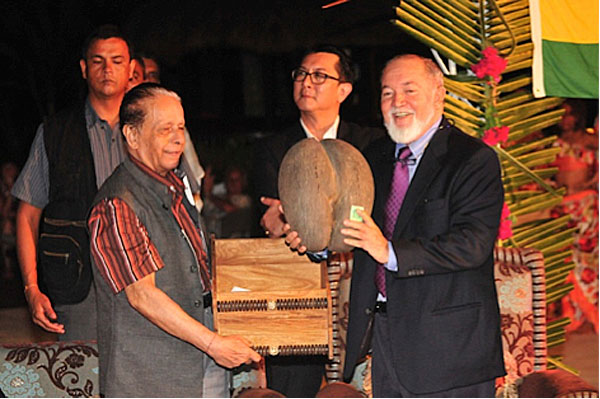 The founding President was a special guest at a private reception in honour of the Mauritius Prime Minister Sir Anerood Jugnauth to mark his 85th birthday.
Sir James personally delivered a letter of congratulations from President James A. Michel to Sir Anerood inviting him to Seychelles and also presented him with a coco-de-mer on behalf of the people of Seychelles.
Prime Minister Jugnauth said: "I could do with a visit now but at the moment my priority is to deal with pressing and vital internal issues. Perhaps in a few months things would have calmed down and I will be able to come to Seychelles not only on an official visit but also for some days of relaxation."
Sir James said that over the years Seychelles and Mauritius had collaborated and worked together within the spirit of "Pti Dalon". But now the time has come for "Pti Dalon" to become "Gran Dalon".Shortly after, Sir James hosted a reception for Sven Olof Lindblad, son of the late Lars Eric Lindblad who pioneered eco-tourism globally and who brought his cruise ship Linblad Explorer to Seychelles in the mid-1960s.Mr Lindblad was made an International Ambassador of Seychelles culture by the Minister for Tourism and Culture Alain St. Ange.
Mr Lindblad's company, Special Expeditions Ltd, is in a joint venture agreement with the National Geographic and operates four cruise ships offering expedition-type travelling.Sir James and Mr Lindblad later joined the National Geographic Orion on a ten-day cruise that included cruising around the Aldabra archipelago, which was declared a World Heritage Site in 1982.
Sir James who was described as "a global perspective guest speaker" gave a talk on Seychelles and Aldabra "in the context of global geopolitics".
Sir James along with Lars Eric Lindblad, and the late Tony Beamish had spearheaded the campaign launched in 1966 to stop Aldabra being turned into a military base and which eventually saw the build-up of the Anglo-US military complex shifted eastwards to the Chagos archipelago.
"Where the birds and tortoises of Aldabra won, the people of Chagos lost," Sir James said.
Sir James said he understood that a 3D documentary film on Aldabra, produced by a Czech company, was to be shown at the Cannes Film Festival shortly and that an official launching of the film would take place in September at the Toronto Film festival in Canada. It features American actor Morgan Freeman as narrator.
However, Sir James believes the premiere should be held in Seychelles.