We won because the ruling party had lost touch with the electorate... and I thanked God for the result
30th September 2016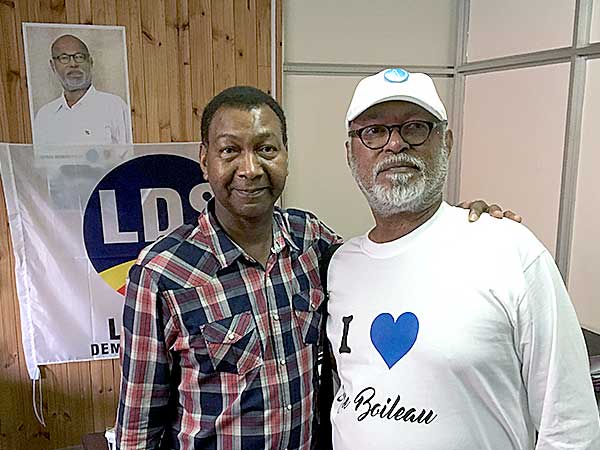 Patrick Pillay, now the new Speaker of the sixth National Assembly of Seychelles. is the elected member of the Linyon Demokratik Seselwa (LDS) party for the Anse Boileau district in Mahe. Mr Pillay, who served as Minister of External Affairs and Minister of Health under President Michel, and then became High Commissioner in London, formed a breakaway party in May 2015. When the LDS gained control of the National Assembly in the September elections it overturned the ruling Parti Lepep which had governed Seychelles uninterrupted for 29 years. Seychelles Life put Ten Questions to him about his reaction...
Congratulations on the election result. You knew you had a good chance, but is this the result you expected?
I had predicted 51 per cent for LDS at Anse Boileau. as I felt while campaigning that the ruling party had lost the trust of the constituents in this Lepep stronghold. I was therefore pleasantly surprised that I did better than that.
What made the difference?
I think it is a question of trust and repute. We politicians underestimate the ability of the electorate to discern the sincere from those coming with false promises who are there for their own agenda and self-aggrandisement I hope it has been a reality check for the ruling party and for the wannabe politicians who thought that they could buy votes willy-nilly. The most embarrassing revelation is for those candidates who managed to get 50 signatories in the constituency where they stood as candidates to endorse them but failed to get 50 votes in the elections! I maintain that the electorate is smarter than we politicians believe.
A change in power has been a long time coming since Parti Lepep first took control of the NA 29 years ago, did you think it would ever happen?
Yes I was positive that it would happen. Too many in the ruling party had lost touch with the people. There was a small elite group in the ruling party that were ill-advising the President and looking after their own personal interests rather than that of the people of Seychelles.
What was your first thought when you knew the Opposition had control of the NA?
A prayer to my God. I just thanked Him for his grace. I knew He never gets it wrong. This is what I kept telling all my supporters after the first round of the presidential elections in December 2015. Many were very tearful and I kept reminding them to trust and obey The Lord.
So now, what is your first priority?
To establish myself in the National Assembly and once that is done to assertively start implementing the programme that was very clearly defined in the LDS manifesto prior to the National Assembly.
What do you think the working relationship will be like between the NA and President Michel in a situation which has never been tested before? *
It all depends on President Michel. If he is magnanimous in his attitude and approach, then I foresee no problem whatsoever. He can either meet the new Speaker and Leader of the Opposition individually or together. It all depends on him. We in the LDS have made it clear that we want to work with all stake holders working in Seychelles for the betterment of the country and the people.
You bonded as a united opposition so will you now still work together?
Absolutely. The people of Seychelles expect no less.
What reaction have you had from business and economic experts?
Euphoria. Just plain optimism. Even from some who I had assumed were financing LePep! I am learning more about the mindset of the business community and it seems that for some (not for all) their actions are not based on ethics and moral principles.
What response have you had from political leaders abroad?
None that I can remember. You see at the moment, I am only the elected member for Anse Boileau district. I am still small fry – in relative terms. One thing I have to point out from the outset is that I have no intention of kow-towing to the big boys in business at any time in the future.
What are your views on a Seychelles Truth and Reconciliation Commission as seen in South Africa, Northern Ireland and Rwanda?
I am passionate about the setting up of a "Truth and Healing Commission". I have been harping on that since my return to active politics in April 2015. I have no intention of letting up on that score. I know that both Mr James Michel and Mr James Mancham think we should forget the past and move on. I could not disagree more.
* The interview was conducted before President Michel announced that he was standing down in October.