Salute to the three Seychellois heroes who are setting a superb example to us all
14th May 2021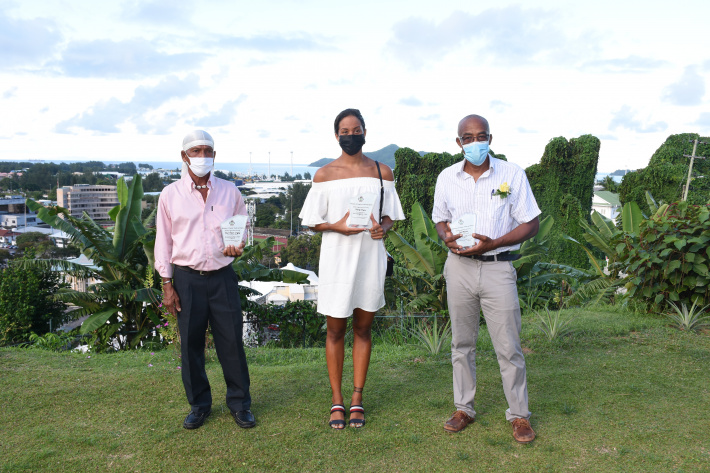 By Lewis Betsy
Seychelles Life is always keen to encourage the positive side in our society and three Seychellois have today earned our respect and admiration.
Felicity Passon, Joel Melanie and Paul D'Offay took on the toughest of challenges to help others and, through their sporting endeavours, displayed both their courage and their compassion.
Felicity, 21, a gold medal holder and Sportswoman of the Year, swam the 15km from La Digue to Praslin and back in four hours eight minutes to raise funds for a mental health charity.
Her "Mind Over Matter Challenge" was carried out with the backing of the Ministry of Youth, Sports and Family.
She said: "It was really a challenge and not easy at all. I had to mentally find the strength in my body, especially in the second half from Praslin. There were a lot of waves and I had to really fight against the current, but I managed to finish it and I am so happy."
Her mother Lydvine was impressed with Felicity's courage and determination. She said: "We knew she would do it, but still there was a little fear. We are so, so proud."
Marathon star Joel Melanie, 59, ran 21km at La Digue in two hours 43 minutes as part of his "Run for a Good Cause" project.
He launched the scheme in 2018, and has raised significant funding for various associations to provide long-term support for Seychellois families and children.
He said: "To have two charitable events going on at the same time, and the attention that both have been given, makes me feel that sport is earning its place, not only as sport but as the notion of challenging oneself for a good cause."
Paul D'Offay, 69, who is also known as Fisher, paddled his kayak the 44km between Mahé and Praslin in ten hours. He wanted to highlight the role of sport and other leisure activities in the fight against drug abuse.
All three have been congratulated by President Ramkalawan for their efforts.
Mr Ramkalawan said: "The whole of Seychelles is immensely proud of your achievements. Felicity and Joel have demonstrated that there is no age limit to the good one can achieve and that through perseverance, hard work and courage, anything is possible.
"Thank you for being exemplary athletes and an inspiration to our nation. This is what the Seychellois spirit should all be about."
He told Paul: "It is important to give recognition to role models such as yourself. I wish to commend you for the advice you gave to our youths, especially those on drugs – to stop using drugs and to take you as an example, and what you have been able to attain at your age."
The three heroes have now been awarded shields and also praised by the Minister for Youth, Sports and Family, Marie-Celine Zialor .
Minister Zialor said sport was not always about winning, but also about improving family life and helping build stronger, healthier, happier, and safer communities.
Seychelles Life agrees. We are very proud of these heroes and what they have done for our country. They are setting a superb example to everyone.