I had to keep my cool, says coach Don Anacoura after Real Maldive's nail-biting promotion battle
30th July 2020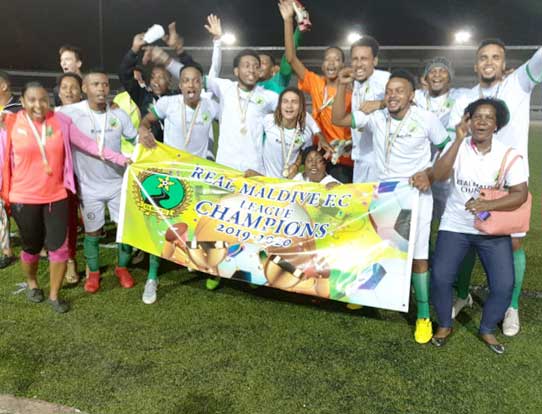 Talk about leaving it late… Real Maldives won promotion in a hard-fought match with just one minute to spare at Stad Linite. The Anse-Etoile based club saw Josip Ravinia score their only goal to equalise with St John Bosco in the 94th minute, but it was enough. St John Bosco from Pointe Larue needed all three points to overtake Real in the Championship table and move on up to the Premier League. They were on course after scoring in the 16th minute yet Real, who have twice failed to win promotion, kept their nerve and took advantage of the five minutes of added time. At the final whistle they were ecstatic.
The St John Bosco players were so crushed they didn't even bother to collect the runner-up medals. It must have been an odd experience playing in an empty stadium because of the coronavirus restrictions, but the result was a compensation for Real Maldives and their coach Don Anacoura. Seychelles Life asked him for his thoughts about the season ahead. He is very positive – and he revealed he is not scared by any of Real's future opponents…
Seychelles Life:
Congratulations on your team being promoted to the Premier League. At the start of the season did you think this was a possibility?
Don Anacoura:
Honestly yes, with the squad at my disposal.
Seychelles Life:
What was the turning point for you this season?
Don Anacoura:
I will say the sponsorship we received from the HIS company which really helped us to motivate our players monetarily. Also the match vs Anse Royale – we were behind 3-0 at half time and we managed to overcome them 5-3.
Seychelles Life:
Can you pinpoint why you were so successful?
Don Anacoura:
We recruited players which made our squad complete, with depth. Also the unity in our committee.
Seychelles Life:
You suffered twice before and failed to get promotion in the play-offs. How nervous were you before that final match with St John Bosco?
Don Anacoura:
Very nervous, as the match was delayed a lot. But as a coach you have to maintain coolness, especially in front of the players.
Seychelles Life:
Was it a fair result?
Don Anacoura:
I will definitely say yes. I don't believe Bosco played better, though I also feel it was not our best match.
Seychelles Life:
Do you sympathise with the St John Bosco players who took the result badly?
Don Anacoura:
For sure I have once been on this side, but I suppose in football you always have to have support.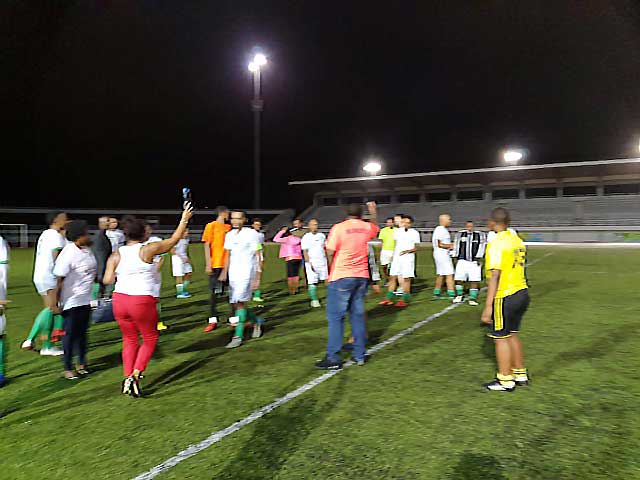 Seychelles Life:
What has been the reaction of your supporters to your success?
Don Anacoura:
Just imagine, even with no spectators! After the match we had a big group waiting outside the gate.
Seychelles Life:
How do you think your team will react to being in the Premier League?
Don Anacoura:
I believe we will work hard.
Seychelles Life:
What will be the biggest challenge?
Don Anacoura:
Surely to get the financial assistant needed to build a better group.
Seychelles Life:
Which team do you fear most?
Don Anacoura:
None.
Seychelles Life:
What is the first thing you will do to prepare for the new season?
Don Anacoura:
Definitely get the players to understand our goals and objectives and together set our target.
Seychelles Life:
Will you still have the same players?
Don Anacoura:
Yes, but will also want to add few more.
Seychelles Life:
Will you have to rethink tactics?
Don Anacoura:
Maybe.
Seychelles Life:
Seychelles Life has been proud to support the Real Maldives through its website and when possible its publisher Lewis Betsy and his son, Kevin, head coach for the England Under-17 Men's squad, have donated kit for the players. Keeping a club financially sound can sometimes be difficult. How do you cope?
Don Anacoura:
This season we had support from HIS company, but otherwise we will cope with help mainly from our committee members and a few sponsors for equipment.